Welcome to AnimaBlade
Hello, world! Welcome to my corner in the net. Now that this site is young it's a good moment to talk about what the heck is this place. I'm usually busy maintaining two other anime related sites (I may talk later about them, maybe not) but sometimes things get hectic and troublesome. In those days I just feel like doing anything else. Well, as of today this is going to be my "anything else". I want this place to be a place to talk once in a while about stuff I like, mostly related to manga or anime and related stuff.
A few minutes ago I was randomly browsing the net and I ran into a list of Pending Delete Domains. I said "Okay, let's check what's available". And so, I found out that animablade was just recently dropped. It was love at first sight. I don't know who was the original owner of this domain name, but thanks pal, you have fine tastes. I bought the domain and here we are. A quick snapshot of the site to remember how it looked on day 1: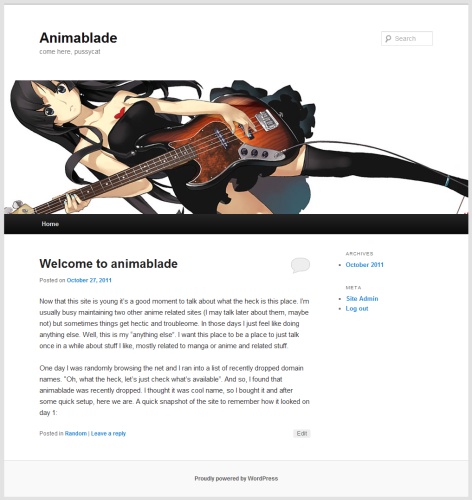 This is not my first website, but it's certainly the most unexpected one…. just half a day ago I wasn't even thinking in adding a new website to my list of hobbies.